Roof Replacements in Surrey, Essex, Kent and London
Once our experts have safely removed your asbestos roof, we can replace it with a new corrugated roof.
If asbestos has been found in the roof of your garage, outhouse, barn or other building, you have two main options: 1) have the building dismantled and removed; or 2) have just the asbestos removed and disposed of, and a new roof fitted. Here at Goodbye Asbestos, we can take either of these approaches, depending on your preference. We are experts in everything from asbestos removal and asbestos disposal to replacement roof installation, and can efficiently fit a new corrugated roof onto your property following asbestos removal.
How to know if your roof contains asbestos
Before the mid-80s, corrugated roofing sometimes contained asbestos cement as it was cheap to install, strong and resistant to damage from the weather. Asbestos can also be found in some flat roofing installed in the 60s, 70s and 80s.
If your roof was installed before the mid-80s, then there is a chance that it may contain the substance, but the safest way to be sure is to get Goodbye Asbestos to carry out professional asbestos testing on your roof. Once we have determined whether there is asbestos in the building, we will organise safe and efficient removal and disposal to ensure that every inch of the substance is taken away.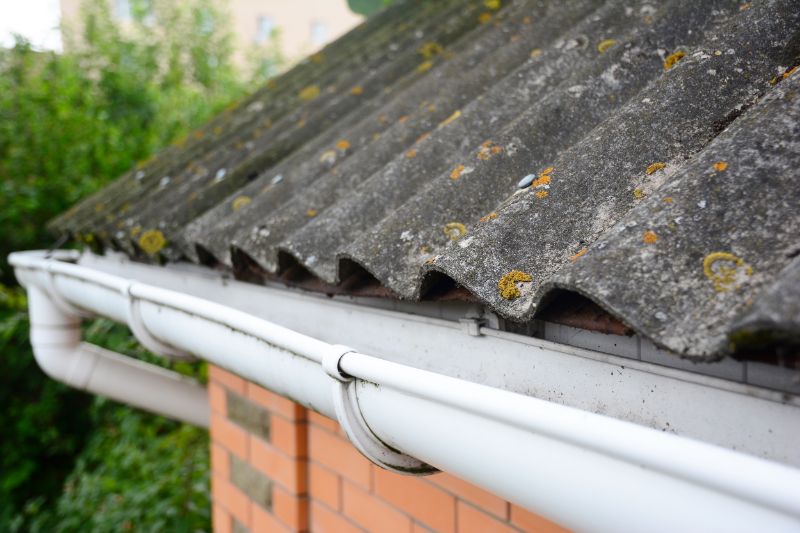 Replacement roof installation
Goodbye Asbestos is committed to taking the hassle out of finding asbestos in your home. So, we can install new corrugated roofing for your home or commercial space once we have removed the asbestos building materials from the old one.
The corrugated sheets we use are fabricated by a reputable supplier, who can provide the material in a range of sizes. This ensures your outbuilding or structure has full coverage across its roofing area. The metal roofing can be colour coated or come in plain galvanised sheeting. Our corrugated roofing looks smart and is high-performance and energy-efficient, so your garage, outhouse, barn or other building will continue to function as effectively as it did before the old roof was removed.
By hiring us to take care of replacement roof installation, you do not have to deal with multiple providers, which saves you time, effort and money. Our corrugated replacement roofs come with a 20-year guarantee, so you can rest assured that your roof is in safe hands.
We will only fit your replacement corrugated roofing when we are completely sure that the area is free from asbestos. Our thorough asbestos surveys enable us to ensure this. Indeed, safety is our top priority when it comes to removal, disposal and roof repair, and our team is highly experienced and knows exactly how to work with asbestos safely. We always wear essential safety suits and masks when we work, and water down the area before we begin the asbestos removal so that the risk of fibres getting into the air is reduced. With our team, you can be sure that your new roof is safe, secure and, most importantly, free from asbestos!
To find out more about organising replacement roof installation as part of your asbestos removal, contact us at Goodbye Asbestos today. We are happy to visit your property so that we can discuss a suitable approach and provide you with a free, no-obligation quotation.